Our Host and partner Institution
In 2020, the membership of the Texas Folklore Society moved our headquarters to Tarleton State University to partner with the university and the College of Liberal and Fine Arts. A pair of iconic organizations, each with a legacy encompassing more than a century of Texas history, have joined forces.
"This is another opportunity for Tarleton, given our own rich history, to have a very visible presence and make a significant contribution in the preservation of Texas history and culture," said Dr. Eric V. Morrow, dean of Tarleton's College of Liberal and Fine Arts.
Highly regarded publisher, writer, historian, and folklorist, Frances B. Vick is the recently elected secretary-editor, and serves as the first woman to hold the position. "We know that our new host institution values the work that we do — collecting, preserving and sharing folklore of Texas and the Southwest," she said. "Tarleton State University is in a position to help us expand that work, and also realizes what the Texas Folklore Society can bring to the campus and community. It's a great fit, and we're very excited."
The university and the Society will conduct a national search for a director who will serve in a dual capacity — leading the Folklore Society and holding a faculty position as folklorist in Tarleton's Department of English and Languages. The agreement also is expected to benefit other university partners. "We see the collaboration between the W.K. Gordon Center for Industrial History of Texas, the Dora Lee Langdon Cultural and Educational Center, and the Texas Folklore Society as raising our research and program profile in the areas of Texas history and culture," Morrow said. "Through this partnership, we envision a strong level of engagement between these centers and programs. While each has its own mission, their shared focus on Texas will yield significant research opportunities and unique events."
Tarleton, founding member of The Texas A&M University System, provides a student-focused, value-driven education marked by academic innovation and a dedication to transform today's scholars into tomorrow's leaders. It offers degree programs to more than 14,000 students at Stephenville, Fort Worth, Waco, Midlothian, RELLIS Academic Alliance in Bryan, and online, emphasizing real-world learning experiences that address societal needs while maintaining its core values of tradition, integrity, civility, excellence, leadership and service.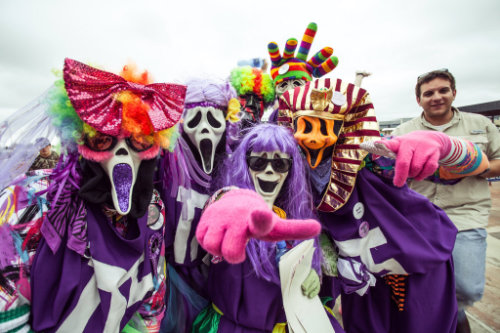 One of the fun traditions on Tarleton's campus is The Purple Poo––the oldest spirit organization in the state of Texas. This group consists of 20 members, 10 guys and 10 girls, with the mission to promote the spirit of Tarleton. The Purple Poo evolved from the TTP/TTS spirit organizations. The members of this still-secret organization appear in public dressed in costumes and speak in high squeaky voices to conceal their identity. Don't be surprised if you see them at our next annual meeting because they sound like our kind of folks!!