Our LeadershiP
Lori Najvar, President
Lori brings great vision and creativity to the role of president. A member since 2005, she has always brought energy and enthusiasm to our annual meetings and to our planning sessions.
Lori is a native Czech-Texan who is very proud of her culture.
As a filmmaker and photographer, Lori has chosen subjects that emphasize the cultural aspects of food, traditions, music, dance halls, domino parlors, sausage making, auctions, cowboy life, and nature. She never met a stranger, she sees the best in everyone, and because of her love and appreciation of others and their heritage and culture, it's easy to see why the Texas Folklore Society is a good fit for her.
Lori's can-do attitude, artistic eye, and graphic design skills lent themselves to our new branding, including the new logo, new marketing materials, and this website. Lori lives in Austin with her husband, Glen Chappell, and they are often accompanied on their hikes by dog, Grover and cat, PJ.
Frances B. Vick, Secretary-Editor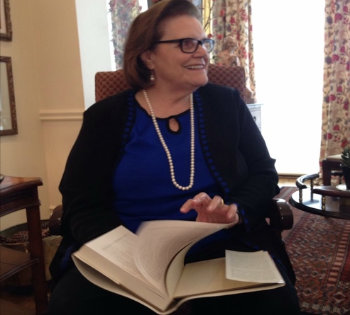 It's hard to pin down exactly when Fran became a member of the Texas Folklore Society, sometime around 1969 or so. Luckily, she has been around long enough to know a thing or two about our rich history, our people, and our operations. In 1979, our then Secretary-Editor, F. E. "Ab" Abernethy, was casting about looking for a new publisher for our books:
"And then the Lord smiled upon me and a good woman came to my rescue, as has so often happened in my life.
"Frances Brannen Vick of Waco and her brother Joe Pat Brannen had recently fallen heir to a herd of Piney Woods Cattle. Their brand was a heart with an E in the middle. Fran and Joe Pat were the E-Heart Land and Cattle Company. They sold some of the cattle that fall, and Fran took her part and started a publishing company, the E-Heart Press. She needed a first book to publish, so she called me to see if I knew about one. Did I ever!
"We met on a bitter-cold November night at the Red Lantern Cafe in Buffalo, half-way between her Waco and my Nacogdoches, and struck a bargain between E-Heart Press and the Texas Folklore Society. The Society would pay the cost of publication and the Press would produce and distribute the book for a forty-sixty split, the sixty to the Press.
"This is the way Fran told the story of the financial part of that adventure in a June 3, 1998, letter to the editor: '[Husband] Ross and I had a banker friend in Waco–remember, Ross was a banker at one point in his checkered career–so I went to Bill for a loan to start E-Heart Press. As a friend, he was concerned about my losing money, but since he knew that I would repay him, he gave me the loan. He later told Ross–after I had repaid the loan–that he had been elated to make that loan because when the bank examiners came in and wanted to know about women and minority loans he would have one to show them! This was in 1978, the years before women had achieved much equality in such matters as loans.'
"Fran was new at the publishing business and her first book cost her the rest of her herd, but in 1979 she published Built in Texas (PTFS 42), which, as far as I am concerned, is the best book to come out of my editorship and time in the Texas Folklore Society." (Abernethy, The Texas Folklore Society, Vol. III, 1971-2000.) Fran went on to publish countless books, not only for TFS, but for many other authors and organizations.
In 2020, when our membership voted to relocate our offices to Tarleton State University, Fran graciously agreed to serve as Secretary-Editor. Her positive "let's get it done" attitude serves the Society well both in publishing and in the move to our new host institution. It's easy to see why Fran was named a Fellow of our Society in 2006.
Fran is a native of East Texas and was raised surrounded by the cultural traditions of her family and others in the community. Once grown, she was surprised (as are most of us) that everything around her had been "folklore." From there, Fran's description of folklore is simple, "It's about the folk. It's about what they do and how they do it." Fran is highly regarded as a publisher, historian, writer, and folklorist. Vastly accomplished, interesting, fun and down-to-earth, Fran is the kind of person you want to sit next to at a gathering. She lives in Dallas with her husband, Ross, and enjoys visiting with her three children and their extended families.
BOARD OF DIRECTORS
2020–2021
Executive Team
PRESIDENT. . . . . . . . . .Lori Najvar (Austin)
VICE-PRESIDENT. . . . . Kay Reed Arnold (Austin)
SECRETARY-EDITOR . . . Frances B. Vick (Dallas)
TREASURER . . . . . . . . Patrick B. Vick (Dallas)
PAST PRESIDENT…….Sarana Savage (Midland)
DIRECTORS

Lorraine Mason (Houston) 2021

Chuck Smith (Fort Worth) 2021

Acayla Haile (San Marcos) 2022

Jim Bridges (San Antonio) 2023

Mary Harris (Hobbs, NM) 2023

COUNCILORS

Rollo K. Newsom (Dripping Springs) 2021

Scott Bumgardner (Houston) 2022

Carol Hanson (Cedar Hill) 2022

Phyllis Bridges (Denton) 2023

Blaine Williams (Dripping Springs) 2023