Our LeadershiP
Donna Ingham, President
Donna Ingham is a bred-and-born Texan who grew up in the Panhandle and on the South Plains of a state noted for its tales, both tall and true. She grew up listening to stories told by family and friends and was drawn early on to storytelling entertainers like Deacon Andy Griffith and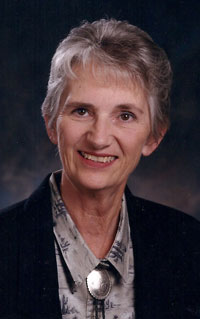 Bill Cosby. "At first I was a mimic," she says, "but in time I began to discover my own voice."
She began to tell stories at church socials and for her classmates in high school and college. "I found that keeping a sense of humor is a good way to keep a sense of perspective, so most of the stories I told then and continue to tell now have their funny moments even if the main gist of the story is serious."
It wasn't until Donna had retired from a career as a college English professor, however, that she discovered her second career as a professional storyteller. A librarian friend invited her to a storytelling concert at a library conference. There she heard three tellers. One had adapted an old joke; one described a disastrous date; and one accompanied his folktale with a ukulele. They were having a wonderful time, and so was the audience. "It was a welcome revelation to me that storytelling was actually a career choice." So she turned pro in 1995.
Since then she has been an Exchange Place teller and Story Slam participant at the National Storytelling Festival, spent a week as a Teller in Residence at the International Storytelling Center, been featured at the Texas Storytelling Festival and almost every other major festival in the Lone Star State, appeared and/or presented workshops at the National Storytelling Conference and the Timpanogos Storytelling Conference and the Timpanogos Storytelling Festival, among many others across the country.
"I have found my calling," Donna says. She delights not only in sharing her own stories but also in encouraging others to collect, preserve, and pass on their family and regional tales. As one audience member recently remarked about her, "Donna Ingham was wonderful and has gotten me interested in storytelling." That's just what Donna likes to hear. "Storytelling is the most collaborative of art forms," she says. "It takes both a teller and a listener working together to co-create the images and the narrative that unfolds between them, and that is communication at its finest." Bio borrowed from donnaingham.com
KRISTINA DOWNS, EXECUTIVE DIRECTOR/Secretary-Editor
Kristina Downs is the daughter of a Texan and a Louisianan, but she grew up all over the United States courtesy of the United States Air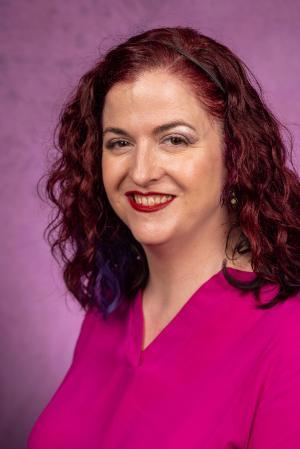 Force. She tried out a variety of disciplines and careers before discovering that folklore studies was what she had been looking for all her life. She holds a Ph.D. in Folklore from Indiana University, an MA in Folklore from George Mason University, and a BA in Latin American Studies from the College of William and Mary.
She has worked previously for the Smithsonian Center for Folklife and Cultural Heritage and Northern Virginia Community College. She was managing editor of the Journal of Folklore Research for five years and she is co-editor of the edited volume Advancing Folkloristics (Indiana University Press, 2021), which considers current issues in the field of folklore studies. Her research focuses mostly on legends, particularly the ways legends interact with history, literature, news, and digital culture. Her dissertation examined representations of Indigenous heroines in the United States and Mexico.
Kristina lives in Stephenville with her two kittens, Misha and Pasha.
Amanda jenkins, office manager & communication enthusiast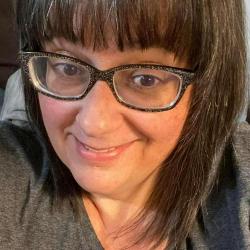 Amanda Jenkins brings a background in community journalism to TFS; Amanda worked as the lead news writer for the Stephenville Empire-Tribune for several years prior to being appointed to serve as managing editor for the Glen Rose Reporter. During her journalism career, Amanda (then known as Amanda Kimble), garnered numerous press awards including being a three-time Journalist of the Year with the West Texas Press Association (WTPA) and being awarded best small news website by the Texas Press Association (TPA). She was also awarded for news, feature, and headline writing, from the TPA, WTPA, and North East Texas Press Association.
Born in Kentucky to a Texas cowman, Amanda's family moved her to Texas at six months old - as quickly as they could. She has since identified as a Texan. She considers El Paso her hometown and has a deep love for Mexican-American culture and the native flavors. Her family has deep roots in East Texas, primarily in Anderson County, where some of all her parents (mother, father, and stepmother) families still reside.
Amanda has been called a lot of (mostly good) things, but her favorite moniker is storyteller. Her love for the craft comes from her father's shared memories (maybe a few tall tales) of growing up in a poor farming family in rural East Texas.
BOARD OF DIRECTORS
2022–2023
Executive Team
PRESIDENT. . . . . . . . . .Donna Ingham (Bertram)
VICE-PRESIDENT. . . . . . . . . .Meredith Abarca (El Paso)
EXECUTIVE DIRECTOR/SECRETARY-EDITOR . . . Kristina Downs (Stephenville)
TREASURER . . . . . . . . Amanda Jenkins (Stephenville)
PAST PRESIDENT…….Kay Reed Arnold (Austin)
DIRECTORS
Jim Bridges (San Antonio) 2023

Mary Harris (Hobbs, NM) 2023

Richard Orton (Nacogdoches) 2024

Lucy Fischer West (El Paso) 2025

---

Linda Spetter (Eastland) 2023

Blaine Williams (Dripping Springs) 2023

John Pelham (Granbury) 2024

MaryAnn Blue (San Antonio) 2025

Dina Lopez (Lubbock) 2025