Spotlight
When we get together, well, things just happen. This is a great example of that!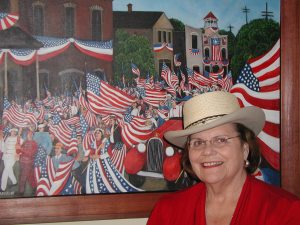 Representing the Texas Folklore Society at the 2004 Texas State Historical Association annual conference were four of the Society's longtime members. Fran Vick presided over the session with Robert Flynn presenting "A Sullen Baptist", and James Ward Lee presenting "Humor." Eloquently bringing up the proverbial rear was Joyce Gibson Roach, who offered her commentary on the Flynn and Lee papers, then brought down the house with her own tale of an "awful sick" mule, a hunting horn, and a local candidate for constable.
As a member in good standing of the Texas Folklore Society, you have access to this once-in-a- lifetime 50 minutes of humor from some of the funniest people we know.
Thanks to our four esteemed members for giving us permission to use their voices, and to audio publisher and TFS Past President Elaine Davenport for recording the session and making it available to us.
Here is Fran's introduction of the session. Members can login to hear the rest of the side-splitting session. Not a member? Join here!