Posted April 7, 2022 to
News
.
Jim Harris, Mary Harris & Jean Granberry Schnitz recognized
Over the years, the Texas Folklore Society has honored as Fellows folks who have shown their dedication and commitment to the mission of
the Society. Although we aren't able to meet this year to celebrate these folks, we wanted to share the news with you that the following outstanding members of the Texas Folklore Society have been named Fellows. We will include their installation as Fellows in our next Annual
Meeting, being planned for 2023 in Waco.
Jim Harris and Mary Harris live in Hobbs, New Mexico. Together they have brought organization, creativity, and new members to give papers at our annual meetings. They created a sense of community among TFS members at each conference with an "invitation to get to make new friends and see old friends" to their self-funded "wine in our room" gatherings.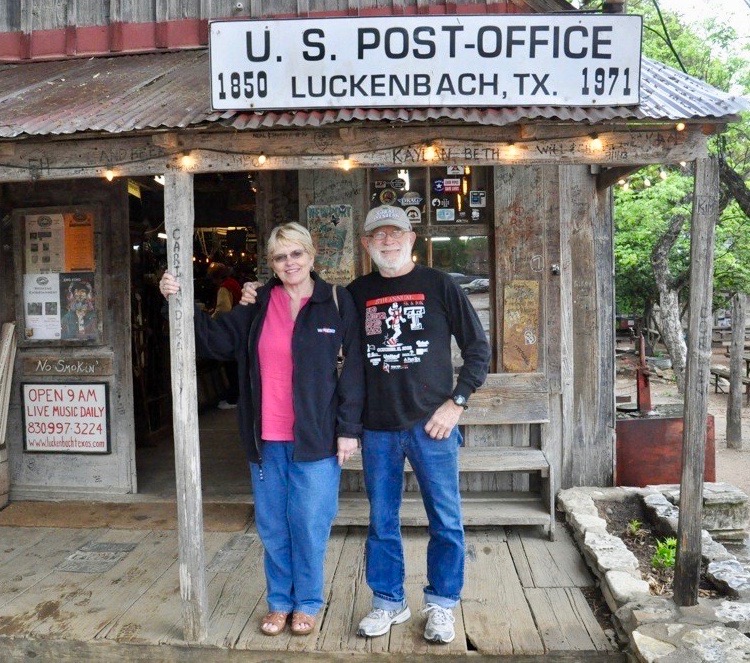 They took TFS with them to New Mexico in numerous ways. Jim expanded the depth of the New Mexico Junior College literature and writing faculty, invited TFS noted authors such as Elmer Kelton, Lou Halsell Rodenberger, and many others to initiate the new Western Heritage Center and Lea Cowboy Hall of Fame on the NMJC campus and to inspire folklore research. After Jim's retirement from NMJC, he began a new career, 20 years as executive director at Lea County Museum in Lovington, NM. Jim raised money for free-to-the-public programs featuring music, art, street dances, major Native American art and sculpture, noted authors such as Max Evans, and talks that brought together "aging, revered cowboy heritage with the realities of the changing ethos of the Latinos," ("Tribute to Jim Harris," Uyless Black) Jim penned 1,330 "History Notebook" columns/photos for two county newspapers. He raised money to buy vacant buildings across the street from the museum. Using his carpenter skills, Jim transformed the buildings including the Town Hall and Athletics Hall of Fame, and more. He published for the museum sixteen books
on folklore, southwest literature, local history, and biographies. Jim served as TFS President 1986–87.
Mary brought her warm spirit to Hobbs public education classes while earning her Ed.D. At the University of the Southwest she has served as a professor for education courses, as Dean of the School of Education, and currently serves as the director of the Office of Special Services. Her dedication as an educator, particularly in special education, has ensured that a college education is accessible for all. She has tirelessly volunteered in her community and served as a director on numerous boards. Mary served as president of TFS 1999–2000. She is currently serving on the board of directors, helping bring the vision Future of Texas Folklore Society to fruition. She continues to serve and support the organization by contributing her time and efforts to strategic planning and development/fundraising efforts.
Jean Granberry Schnitz
Jean Granberry Schnitz, served as president of TFS 2006–07. She was raised in Raymondville and attended school in Alice before studying at Texas A&I University. She worked as a legal secretary at Southwestern Bell Telephone Company and for firms in Corpus Christi and San Antonio. Jean never met a stranger and dedicated herself to TFS by volunteering at the Texas Book Festival, the Texas Folklife Festival, and Schreiner
University's Texas Heritage Music Festival.
Inspired by her grandmother, she is known for performing her hammered dulcimer at our hootenannies as well as at events in communities and schools. She has written countless entries about her ancestors in our publications and has given many papers at our meetings and on our behalf at Texas State Historical Association. Because of her outreach efforts, she's recruited many of our current members. Jean lives and breathes folklore by continuously collecting and preserving traditions and memories of her extended family and communities in which they have lived. Jean is a mother and grandmother and lives with her husband, Lew, in Boerne.