Posted March 7, 2023 to
News
.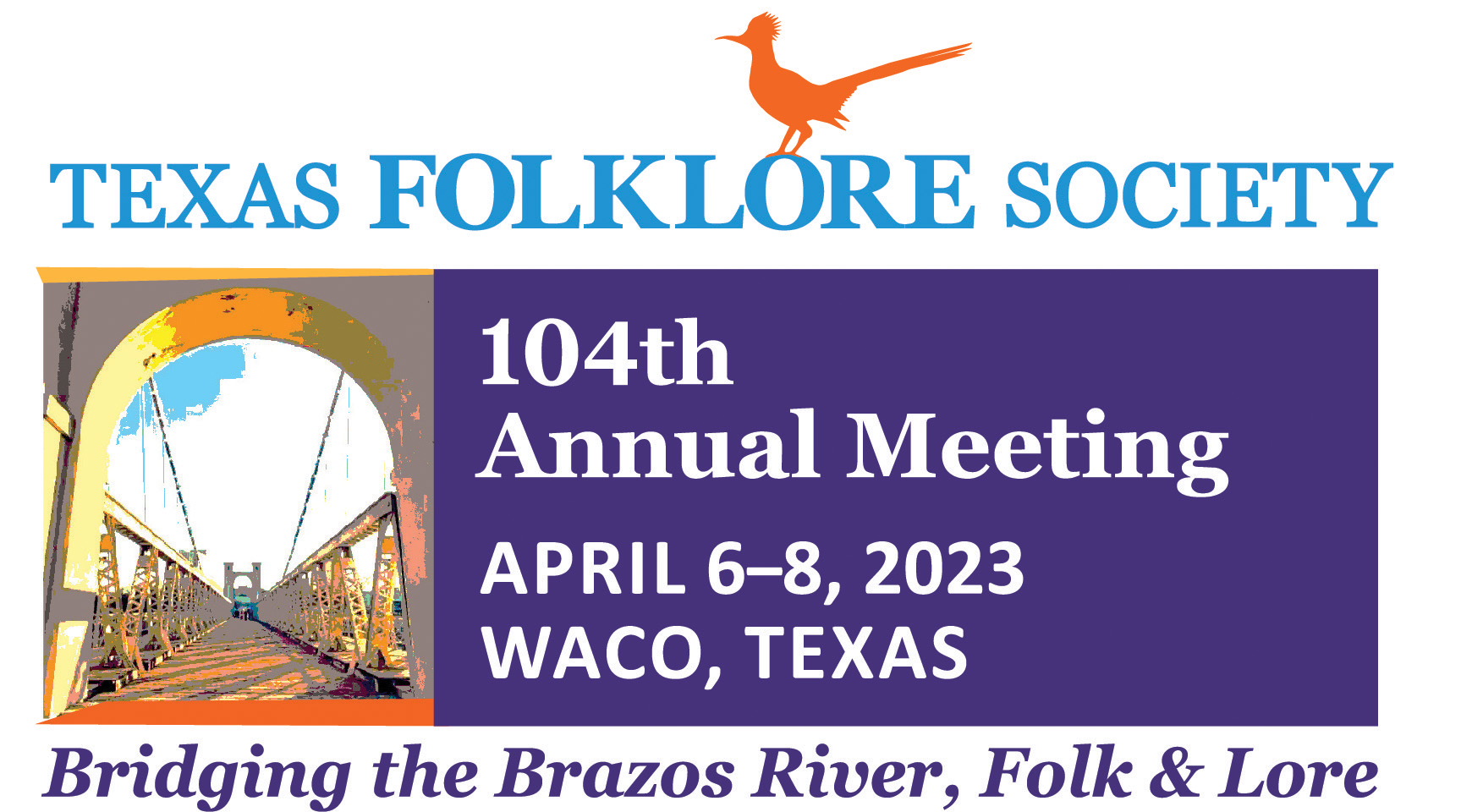 A little less than a month before its 104th Annual Meeting, the Texas Folklore Society is publicly sharing the program for the event, which is slated for April 6–8, 2023, at the Hilton Waco.
The schedule for the event, dubbed "Bridging the Brazos River, Folk & Lore," includes five sessions of two or three presentations each spotlighting the state's varying cultures. Topics range from foodways and place-name anecdotes to borderland festivals and the Texas Folklore Society's early leaders and events.
The presentations are based on the research of TFS members including Norma E. Cantú, of San Antonio, a Chicana folklorist, poet, novelist, and Murchison Distinguished Professor at Trinity University. Her paper "Fiestas on the Border: Matachines and George Washington's Birthday in Laredo," will delve into Cantú's extensive research on celebrations of the Texas-Mexico border city; she recently authored a book on the topic, a 2022 TFS publication.
Mexican American Rhodes Scholar John Phillip Santos, a writer, poet, freelance filmmaker, producer, and journalist who also hails from San Antonio, will give a paper titled "Best Enemies: The Paredes Quarrel with Webb and Dobie, and What it Means for Understanding the History and Folklore of South Texas." His presentation shines a light on the feud between the three scholars—one-time TFS President Américo Paredes, former TFS Secretary-Editor J. Frank Dobie, and Texas historian Walter Prescott Webb.
British-born Austinite Bernadette Nason will share comical reflections related to her assimilation into Texas culture, with "Guns, Hats, and a Bucket of Chicken: My First Twenty Minutes in Texas." Jo Virgil, also from Austin, will explore the odd stories behind Texas town names. Newcomers Elaine Smith, of Dublin, and Blanca Jenkins, of Marshall, will talk about "cruising the drag" in small-town Texas, and roadside memorials, respectively. You can view the complete program at the bottom of this post.
The 104th Annual Meeting will also celebrate members who have helped advance TFS through the collection and sharing of folklore, volunteer service, and more. Honorees include Jean Granberry Schnitz, of Boerne, and Jim Harris and Mary Harris, of Hobbs, New Mexico, who will be recognized as Fellows of the Texas Folklore Society. Lee Haile, of Tarpley, will be honored with the Hermes Nye Hootenanny Award for his ongoing efforts of wrangling the masses for evening entertainment and fellowship each year.
The long-awaited annual meeting follows three years without in-person TFS gatherings due to the COVID-19 pandemic. The meeting is also the first since the Society joined forces with Tarleton State University. Eric Morrow, Dean of the College of Liberal & Fine Arts at Tarleton, will present the welcome address alongside Donna Ingham, TFS president from Bertram, and Kristina Downs, TFS Secretary-Editor/Executive Director.