Spotlight
DOWN BY THE GUADALUPE RIVER
By Jean Granberry Schnitz, 2022 TFS Fellow, Past President, and Longtime Member
When I received a call from the Texas Folklore Society for papers about hunting and fishing stories to be included in its publication for 2011, I first thought that I didn't have one. I soon remembered the adventures I had going fishing with my Dad in the late 1930's and early 1940's so I wrote a paper about that which I called "Fishing From Indianola to Boca Chica and Waters In Between." In the course of remembering those fishing stories, I remembered one significant hunting trip that happened in about 1940 or 1941 when my family lived in Victoria, Texas.
I was about ten years old and my brother, Billy Granberry, was about seven years old. Our next door neighbor on Convent Street at that time was the Goodman family, which included Corky Goodman, who was about fourteen or fifteen years old. Corky was a very interesting fellow to have for a neighbor. For example, he delivered the Victoria Advocate by hitching his German shepherd dog to a red wagon and running along ahead of the dog, which pulled the wagon. Inside the wagon sat Billy Granberry, who threw the papers where Corky indicated they should be thrown. After a mishap involving the dog chasing a cat, which resulted in minor injury to Billy, Corky decided to deliver the newspaper while riding his horse. That was successful for quite awhile. There were few dull moments with Corky around. Corky was involved in most of our adventures when we lived on Convent Street.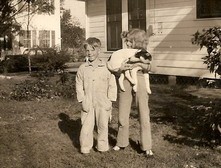 One day Corky announced to Billy and me that he had heard there were some snipes down by the Guadalupe River and they were really easy to catch. He explained that there was only one way to catch them and it required two groups of people. Someone had to hold open the top of sacks and place the sacks near the trails where snipes ran. The other group had to make noise and make the snipes run into the sacks. He planned a snipe hunting expedition!
Though we wondered what a snipe was, we pictured some sort of small animal that wouldn't bite us. I never considered it might be some sort of feathered creature because I never heard of a bird called a snipe. Besides, Corky described a creature that did not fly. I figured we would know all about it when we caught one.
Billy and I liked the idea of having a snipe hunt and quickly agreed to participate. Corky's helper was Daddy. One summer evening when the sun was going down, we got in our car and drove to a spot on the banks of the Guadalupe River near the site of the present park. At that time there was no park. The road consisted of two ruts that ran among the trees along the banks of the Guadalupe River.
We walked around with our flashlights, and were soon able to find a couple of trails snipes might be expected to follow. Billy and I each had a tow sack which we were instructed to hold low to the ground with the open end toward the direction that the "beaters" would be driving the snipes. Corky and Daddy left us standing in the dark with our sacks open and ready to catch a snipe. They walked away through the brush, making noise and hollering back and forth to each other.
Billy and I were too dumb to realize that any self-respecting snipe would run the other way, but we believed we would soon catch one or two of them. It was as dark a night as I ever saw. Daddy and Corky moved farther and farther away and soon we couldn't hear a thing except the rustling of leaves in the trees. We couldn't even see their flashlights. Occasionally, something would scurry close enough that we could hear the movement in the dry grass. Our eyes were getting pretty wide by this time, but we stood our ground. We SURE did want to catch a snipe! Besides, even though our feet would barely let us stand, we didn't want Corky and Daddy to think we were cowards.
Finally, Corky and Daddy decided we had been fooled long enough and we heard them returning. We were pretty glad to see them by the time they arrived. After all, THEY had the flashlights. We couldn't understand why we had not caught a snipe! When they admitted that they had played a dirty trick on us, we had to admit that it had been exciting to stand there in the dark and wonder what was making the many sounds we were hearing. It wasn't ALL bad!
Daddy always excused his participation in this scheme by saying he needed to be there to be sure neither of us got hurt. Maybe. He couldn't fool me, though! He really enjoyed the whole thing!
Looking back on that memorable snipe hunt, I realize that it was a good lesson for Billy and me. We never again would be fooled into another snipe hunt – and someday we might even want to take some other unsuspecting person on such a hunt.
The passage of nearly eighty years has made the incident even more special among my memories. Corky Goodman grew up to join the United States Air Force and fly numerous missions during the Korean War in the early 1950's. He was killed on February 21, 1953, when his jet airplane exploded on his last mission before returning home. He is and will always be a hero to Billy and me – and to all Americans.
Billy became a lawyer who practiced law in Corpus Christi before he retired. He was in the first "class" to be honored in the Beeville High School Sports Hall of Fame when it was started a few years ago. He was on the Texas A&M University football team coached by Bear Bryant in 1956. He is one of the "Junction Boys."
My Daddy was Dewey Lafayette Granberry, who was Manager of the Chamber of Commerce in Victoria in the 1930's until 1944, in Alice until 1946, in Raymondville from 1946 to 1950, and in Beeville after 1950. How grateful I am to have had a Daddy who had both a spirit of adventure and a great sense of humor!
As for me, I hope I never grow so old that I don't enjoy doing something silly occasionally! Anybody want to go down by the Guadalupe? I have a couple of nice big sacks I'll loan you. I'll go with you if you will hold the sacks while I drive a few snipes in your direction!
JGS – 2010s – (revised slightly 2018)
---
When we get together, well, things just happen. This is a great example of that!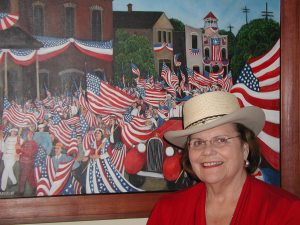 Representing the Texas Folklore Society at the 2004 Texas State Historical Association annual conference were four of the Society's longtime members. Fran Vick presided over the session with Robert Flynn presenting "A Sullen Baptist", and James Ward Lee presenting "Humor." Eloquently bringing up the proverbial rear was Joyce Gibson Roach, who offered her commentary on the Flynn and Lee papers, then brought down the house with her own tale of an "awful sick" mule, a hunting horn, and a local candidate for constable.
As a member in good standing of the Texas Folklore Society, you have access to this once-in-a- lifetime 50 minutes of humor from some of the funniest people we know.
Thanks to our four esteemed members for giving us permission to use their voices, and to audio publisher and TFS Past President Elaine Davenport for recording the session and making it available to us.
Here is Fran's introduction of the session. Members can login to hear the rest of the side-splitting session. Not a member? Join here!