Posted November 14, 2022 to
News
.
TFS Library space at Tarleton state makes extensive collection accessible
Texas Folklore Society announces the opening of its folklore research library at Tarleton State University's Stephenville campus. The truly unique collection contains more than a thousand books focused primarily on folklore from across Texas and the Southwest, including TFS first editions.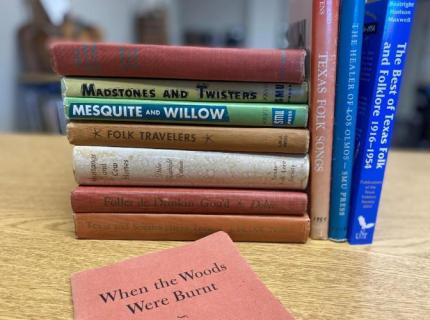 "The College of Liberal and Fine Arts at Tarleton State has generously supported us in our relocation to Stephenville," TFS Executive Director Kristina Downs said. "The space they have provided has allowed us to make accessible an extensive collection of books that very few people have had the opportunity to fully explore."
The books cover everything from history, literature, and music to insight into place-name anecdotes, regional customs and traditions, lifestyles, attractions, events, and more. Within the stacks are also hundreds of titles that provide researchers a glimpse into the folklore of other areas of the United States and the world, including historical accounts and more contemporary customs and legends. The collection ranges from publications on traditional arts, crafts, music, and foodways to books on mythology, superstitions, religion, ghost stories, fairy tales, and much more.
TFS is proud to hold a collection of the works of J. Frank Dobie, who served as our Secretary-Editor from 1923–1943. In addition to books he wrote, the collection includes scholarly research on Dobie, the fabled teacher, storyteller, folklorist, historian, author, and champion of free-thinking who was known as "The Storyteller of the Southwest."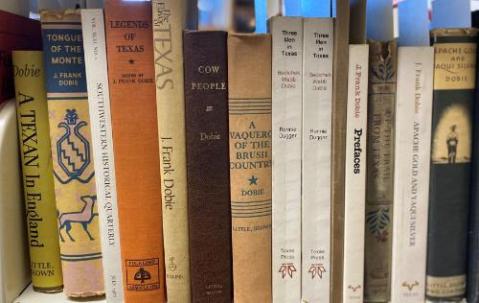 Collections also include books from Texan Paul Patterson, a novelist, poet, short-story writer, essayist, storyteller, and educator, who served as TFS president from 1966 to 1967. The collection was donated by Patterson's family and many of the books contain lengthy inscriptions from Paul himself.
Researchers and enthusiasts can find a full list of our current holdings here. The Texas Folklore Society Library is open to TFS members and Tarleton State University students, faculty, staff, and alumni. Books cannot be removed from the library, so all research must be conducted on-site. Hours of operation are from 8:30 AM to 4:30 PM Monday through Friday. We are closed on university holidays. It's recommended, but not required, that you contact the TFS offices ahead of time so that staff can fully support your visit. Find more information about joining us here.